Party Poker



Party has had over 30 million downloads since 2001, and is one of the top poker rooms to play online poker at overall for non-us players.
Party Poker is one of the largest online poker rooms. Today Party does not allow USA players, if your a USA player, you should checkout the USA Poker Sites by clicking the link. All other players are welcome at PartyPoker.com You can find weak competition to play against to earn great prizes for just playing. Loose games can be found all the way up to the $15/$30 limit.

Statistics are not Party Poker's forte. With a large network of other poker sites, Party Poker brings in numerous amounts of players at peak hours. You can always find the game you want anytime of the day. Party Poker was averaging in January 2012: 15500-17500 ring game players at peak hours, 21000-24000 tournament players at peak hours.

Party Poker - Signup $50 USD Free + Deposit Bonus
Current Promotions:

Over $100,000 worth of freerolls every month We have a huge range of freerolls taking place every day so there is always a chance to play for free on PartyPoker.com.

New Player $1,500 freeroll - Play the $1.5K Freeroll! You could pocket a pretty penny...and it won't cost a cent to enter.

Autumn Million -Qualify from just $1 and you could reap spectacular rewards in our $1 million guaranteed tournament!

$200K Guaranteed Sunday - Play for a slice of the huge prize pool in our weekly $200K Guaranteed Sunday tournaments.

Summer Superstars - Win your way to superstardom by claiming a share of $5,000 in our daily freerolls and even a
stunning WPT package if you top of one of our thrilling leaderboards!

$5,000 Bankroll Booster - Play for your share of $5,000 every week with four easy routes into our Bankroll Booster final.

PartyPoker Review Summary:

Party Poker is a time-tested online poker room that players recognize from one corner of the Internet to the other. It doesn't matter whether you're brand new to the game or you've been playing for years – it has something for everyone.

Why is Party Poker so successful? That's a question with many different answers. For one, people love the game. It also helps that the software is the best in the industry, and it boasts lightning fast speeds along with downloads for Windows. The developers have even added support for Mac and Linux users, so they now have a chance at getting in on the action as well.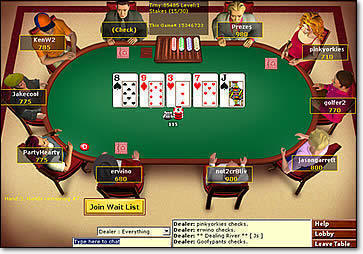 What Features Come with the Program?
When you're trying to select the right online poker software, it's important to check out the features first so you know what you'll be getting by using the program. It has something that many other online poker websites do not – it's called the "Deal-Making Facility."

When there's only one final table left in a game, players have the option to make a deal. If they all agree to the deal, they get to split the chips, stop the game, and walk away. If even one person refuses, the game must go on.

The single best feature, of course, is its incredible speed. You need a program that can handle the rapid-fire activity in the world of online poker, and this software does not disappoint. It has room for up to four players to play simultaneously in a single game. It's even been redesigned and updated, so there's now a whole new look for the lobby area.
Player Traffic and Competition

Due to new federal laws, United States citizens can no longer play online poker at Party. Party Poker has felt the effects of this blow more than many other poker sites online.

Now, it has its sights set on Scandinavia and Western Europe. It's also becoming a customer favorite in up-and-coming poker markets in the East and South Africa. After the US law was passed, user involvement in these areas skyrocketed. There are around 40,000 real money tournament players during peak times and around 7,000 ring game participants.

Why is this beneficial for players? Simple. Many users lost their excitement for the site because finding a table and a place to play was so competitive that it was no longer fun. Now, the competition has died off enough for the game to become fun again. And there are still enough players to keep it as popular as ever.

The Welcome Bonus

All it takes is making an initial deposit and playing your first cash money game to earn your welcome bonus. The bonus is in the form of Party Points, and the amount hinges on the rake (entry fee) of the game you play. You need Party Points – they're the core element that will get you VIP status and tie you into the bonus system. All you must do is earn a certain number of Party Points. Then, once you do, it will release your bonus money to your official bankroll in increments of $5.

You can find out everything you need to know about your bankroll right on your account's online page. You'll find the number of Party Points needed for each bonus increment – it's six to nine times the amount to qualify. Remember that the amount will fluctuate depending upon the currency you're using to play. You should also be aware that you have exactly 60 days to release your Welcome Bonus while you play poker.

A Welcome Bonus is not the only bonus you'll receive as a member, however. Periodically, you may qualify for "reload bonuses" if you become an established member who plays regularly. If you qualify for one, then the amount will typically match 15 – 25% of up to $200 of your deposit.

Game Variety and Promotions

You can choose from a wide assortment of games when you play at Party Poker. Some fan favorites include Limit, Pot Limit, and No-Limit Texas Holdem, Omaha, and Five-Card Stud.

Let's talk about the most popular game for it's Players. The game is called Party Poker Million, which has upped the ante by replacing the original $1 million tournament with a brand new prize of $300,000 awarded to players each Sunday.

Another big hit with members is the "Player's Club Free-Rolls." In this game, the players win Party Points while they're playing the game with actual money. Players can then cash in the points to enter more free-rolls, or they can use them to enter other kinds of tournaments instead, it's entirely up to them.

It doesn't matter what type of tournament you choose – there's a variety of buy-in options for every game. Blinds start at $0.02 - $0.04 for ring game tables. Those are table where you can seat yourself at the first available space you find. These kinds of tables can climb to $25 - $50 depending on the game you choose. It also offers single-table tournaments called "Sit and Gos" which start at a low $3.

Points at PartyPoker.com

Party Points are what players earn while they're in the game. For every dollar that they add to the rake, they earn two Party Points. Keep in mind, however, that if you do not cash in your Party Points by the end of a period of thirty days, you will lose them. The points don't roll over.

It's also important to manage your points because they're what will qualify you for VIP status. You must also use them to buy merchandise in the brand new online store, pay your entry fees, and gain entrance to invitation-only events. That's why it's crucial to keep a close eye on your Party Points at all times.

VIP Rewards & Reward Bonuses

If you make it to VIP status as a Party Poker player, you'll enjoy some serious perks. You'll begin to receive invites to super-exclusive games made up of only VIP players, and you'll earn Party Points at much higher rates. You'll also get higher-quality bonuses for many of the promotions run by the program.

If you become an Elite VIP player, then the benefits get even better. You will have immediate access to it's exclusive concierge service, and you'll be entered to win many great prizes such as travel tickets, sports events, or seats to the World Poker Tour.

Deposit/Withdrawal Methods

You can withdraw money from your Party Poker account whenever you choose, but there are some limits. The minimum is $50 and the maximum withdrawal amount is $3000. Players should also be aware that most circumstances require them to have made a previous deposit with the method they use to withdraw.
There are some fees associated with payment methods like Express Check or Western Union. Additionally, depending on the payment method you're using, the transaction speed may vary. For example, it could take as little as six hours if you use WebMoney but up to 20 days if you opt for traditional checks.
There are quite a few ways to withdraw funds – players can transfer winnings to Click2Pay, checks by mail, wire transfer, Moneybookers, bank transfer, checks by courier, VISA, MasterCard, WebMoney, Neteller, my citadel wallet, or Switch/Solo/Maestro.
If you're a Party Poker player in the UK, then you may choose from even more options. To deposit your cash, you can use Giro Pay, Click2Pay, VISA, MasterCard, Paysafe, Click & Buy, Poli, WebMoney, iDeal, Przleway24, Neteller, UsemyBank (Canada/U.K.), Moneybookers, Laser Card, , ukash, wire transfer, Bancontact Mister Cash, bank transfer, DirectPay24, eWire, my citadel wallet, ELV (Germany/Austria), Switch/Solo/Maestro, or EntroPay.

Please keep in mind that no matter what payment method you choose, it requires a minimum deposit of $25. Depending on the deposit method you choose, higher minimums or additional fees may apply, so make sure to check before you play.

Stellar Customer Service

The customer service it offers is simply unsurpassed. If you have a problem that needs solving, but it's not an emergency, then you can send an email and you will receive a prompt response. If you have a more pressing issue, you can hit up the free 24-hour phone support (available in the US, Canada, Western Europe, and the UK).

Start Playing at Party Poker:

Download Party Poker -click to claim your Bonus from PokerBonusListings.com